Announcing our 2nd annual
Run to benefit the Children's Tumor Foundation!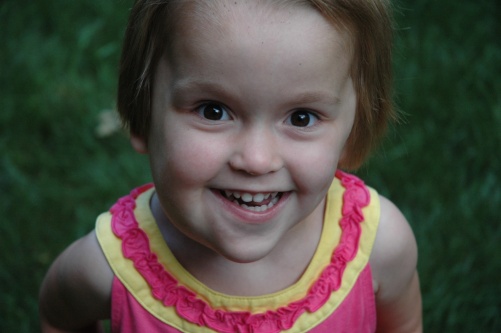 My niece Jane is 3 years old. She's one of the happiest kids I know. I don't think I've ever seen her upset or angry or throw a tantrum, but she does have an infectious smile! (Don't worry. It's not dangerous, but it is contagious.

See above.)
Jane was born with neurofibromatosis (NF), a condition that causes nerve tumors. She has tumors on her face, jaw, and neck and behind both eyes. This year Jane started an experimental medication (interferon) to help slow the growth of her tumors. Unfortunately, the only other available treatment is radical surgery.
Last summer we raised over $12,000 for the Children's Tumor Foundation, a wonderful group that is dedicated to improving the health and well-being of individuals and families affected by NF. This year we hope to do the same! By donating to the Children's Tumor Foundation you can help fund the development of new therapies for NF.
Please sponsor my sister Kristy
when she runs the 20K New Haven Road Race on Labor Day,
and the Hartford Marathon on October 10th!